Just as a reliable anchor keeps a ship steady in stormy seas, the Honda EU3000i Handi acts as your steadfast companion during power outages or outdoor adventures.
This review will guide you through the intricate web of its specifications and features, illuminating every nook and cranny of this impressive generator. With our expert knowledge of automotive products, we'll delve into the heart of the EU3000i Handi's engine and dissect its power capabilities and fuel system while also shining a light on those extra features that set it apart from others in its class.
We'll inform you about basic maintenance aspects to ensure your machine runs smoothly for years to come. But just like any other product, it has pros and cons, which we'll lay bare before you completely unbiasedly.
So buckle up and prepare to embark on an enlightening journey of knowledge with us!
Key Takeaways
Compact and lightweight design for easy portability.
Quiet operation makes it suitable for camping or RVing.
Eco Throttle System reduces fuel consumption and noise levels.
Powered by a reliable Honda engine known for longevity.
Specifications
Engine: Honda GX160
Displacement: 163cc
AC Output: 120V 3000W max.(25A) 2600W rated (21.7A)
Receptacles: 20A 125V Duplex, 30A 125V Locking Plug
DC Output: 12V, 100W (8A)
Starting System: Recoil
Fuel Tank Capacity: 1.56 gallons
Run Time per Tankful: 3.6 hrs. @ rated load, 7.7 hrs. @ 1/4 load
Noise Level: 65 dB(A) @ rated load, 57 dB(A) @ 1/4 load
Weight: 78 lbs.
Dimensions: 24.5″L x 14.9″W x 19.3″H.
You're going to love the compact and lightweight design of the Honda EU3000i Handi, boasting 2,600 running watts and a starting wattage of 3,000, powered by a reliable Honda GX160 engine. This is a unit that truly understands your needs for both power and portability.
With its Handi Portability feature, you can easily take this generator anywhere you want. Its petite size makes it an ideal traveling companion for RVing or other recreational activities.
The Honda EU3000i Handi measures 24.5′ in length, 14.9′ in width and stands tall at 19.3′. Despite these dimensions, it only weighs 78 lbs – making it one of the lightest models in its class! It's also equipped with both AC (120V) and DC (12V) outlets, so no matter what your power needs are, this device has got you covered.
When it comes to noise levels – let's just say peace is important for us all. The EU3000i assures that tranquility with its impressively low noise output, perfect when you're out camping or simply enjoying some quiet time outside.
As for the starting mechanism – we get how crucial easy operation is for you folks who always find themselves on the move. That's why this model features an effortless recoil starter system that guarantees stress-free startups every single time.
So whether you're looking forward to a weekend getaway or preparing for an unexpected power outage at home, trust in the capability of the Honda EU3000i Handi to have your back through thick and thin. This robust yet portable generator isn't just about meeting expectations, it's about exceeding them!
Body of EU3000i Handi
Despite its sturdy build, the compact size of this generator makes it a breeze to handle and transport, whether you're going solo or with a partner. The sleek dimensions (24.5′ length, 14.9′ width, 19.3′ height) and portable design set the Honda EU3000i Handi apart from many in its league.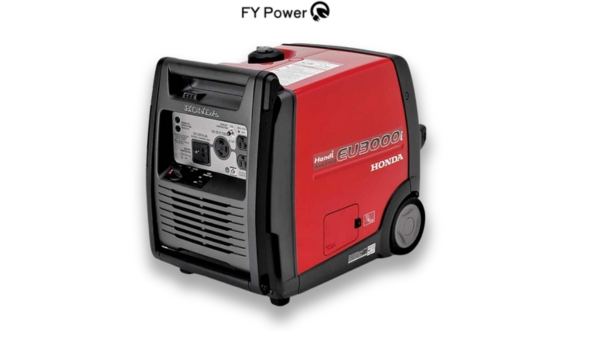 Convenience: The unit features two handles for easy transportation – a folding handle above the control panel and a non-folding one at the back. Plus, two small plastic wheels make moving this unit on flat surfaces effortless.
Maintenance friendly: With four maintenance covers that are easy to remove, keeping your generator in top shape becomes less daunting. These give you access to vital components like the oil fill cap, oil drain plug, muffler, spark plug, and air filters.
Safety features: Safety is not overlooked in this design either! A plastic fuel filler cap with a vent lever sits atop while a muffler with a spark arrestor resides on the rear side – all ensuring safe operation.
Remember those circular 'feet'? They keep your generator elevated slightly off the ground, which helps prevent any damage from wet conditions or rough terrains.
The front and rear plastic covers come equipped with several venting holes, ensuring better heat transfer, which reduces the noise level significantly – an often overlooked but valuable feature.
So there you have it! The body of the EU3000i Handi is designed meticulously for practicality without compromising on safety or functionality, making it an excellent choice for those seeking portability combined with reliability when out touring or during power cuts at home!
EU3000i Handi Engine
While the body of this generator is already impressive, it's the guts of the machine–the GX160 engine–that truly steals the show, marrying power with reliability in a way few other models can match.
The Honda EU3000i Handi houses a gasoline-powered Honda GX160 engine under its hood that stands out for its excellent engine durability and remarkable noise level control.
This air-cooled, single-cylinder 4-stroke engine offers an overhead valve-type design with a displacement of 163 cubic centimeters. It's not just powerful but also reliable to boot, providing you with an incredible output of 4.8 horsepower. Now that's something you don't see every day!
One key feature worth mentioning is its starting mechanism – a manual recoil pull start equipped with an automatic mechanical decompression system. This advanced feature significantly reduces the force needed to start the engine, making it easy even for those who aren't particularly strong or mechanically inclined.
The GX160 also has you covered when it comes to maintenance thanks to its carburetor featuring a built-in fuel filter designed to prevent clogging from impurities. Plus, there's no need to worry about running low on oil as this smart engine automatically shuts off when oil levels dip too low.
What sets this particular Honda model apart is how quiet it runs while still delivering substantial power; indeed, it's one of Honda's quietest engines yet! So if you've been seeking a generator that offers both performance and peace along your journey- trust us when we say- your search ends here with the EU3000i Handi.
Also Read: Honda GCV160 Spark Plug Gap and Socket Size: Detailed Guide
Power
When it comes to power, you'll be impressed by the sheer output this generator can deliver. The Honda EU3000i Handi is a dynamic powerhouse that effortlessly produces 2,600 running watts with an impressive surge of up to 3,000 starting watts.
This single-phase generator consistently delivers 120 volts AC, ensuring optimal Power Efficiency for all your appliances and electronics.
The strength of this generator lies in its ability to generate a clean and stable current. Thanks to its unique high-speed flywheel and alternator combination, along with specialized microprocessors, you can easily run sensitive devices like laptops or computers without fear of damaging them.
It offers less than 3% total harmonic distortion, ensuring your devices' smooth operation. It provides consistent frequency at 60 Hertz, allowing you dependable Power Reliability.
This robust unit doesn't just offer raw power but also brings remarkable Power Versatility into play. Whether it's driving your RV's air conditioning system, powering up your campsite, or keeping your home essentials running during a blackout – the Honda EU3000i Handi is always ready to serve.
Without making too much fuss about wrapping things up here, let's underline that whether you're a homeowner needing reliable backup power or an adventurer seeking convenience in the wilderness, this generator stands out among other units in its class. Its efficiency, coupled with unrivaled versatility, makes it a useful tool and an investment towards peace of mind knowing you have reliable power when you need it most.
Fuel System
You'll be pleased to know that this generator's fuel system is impressively efficient, with the ability to run for an impressive 7.7 hours at just 25% load. This is a testament to Honda's reputation for fuel efficiency in its products.
The tank capacity of 1.56 gallons might seem modest, but when you consider its high-efficiency output, it becomes clear why this model is favored by many. The gas tank itself is made from durable plastic and designed with a convenient top-fill system for easy refueling – no more struggling with awkward angles or spilling precious gasoline. To ensure the cleanest possible fuel supply, there's a handy filter nestled under the filling cup that catches any debris during the refueling process.
One standout feature you'll appreciate is the clearly marked upper fuel limit mark. It's designed to help prevent overfilling and potential spills that can damage your wallet and the environment. For added safety, you'll find a built-in manual shutoff valve integrated into the engine start switch–a thoughtful touch aimed at simplifying operations.
Do take note, though; while this unit champions in terms of fuel efficiency and utility design, it does lack certain elements like a dedicated fuel gauge or an electronic injection system. These are minor setbacks compared to what else it brings on board – notably its remarkable running times and user-friendly features.
So if your goal aligns with ours – joining an eco-conscious community without compromising on performance – then this Honda EU3000i Handi review should have solidified your decision by now. Its robustly efficient fuel system certainly sets new standards for portable power generation!
Control Panel
Navigating the control panel of your generator shouldn't feel like rocket science, and thankfully with this model, it's a breeze. Honda has thoughtfully designed the EU3000i Handi with Panel Accessibility in mind.
The control panel is conveniently located at the front side of your generator and includes an angled part for easy operation from above. It comes with three positions: off, on, and choke. The start switch powers down your generator in the off position powers it up in the on position, and prepares your engine to start in cold conditions with the choke position.
This model also features an Eco-Throttle switch that automatically adapts the engine's rotations according to the load. This not only reduces fuel consumption but also adds to Control Durability by preventing unnecessary wear and tear on the engine.
A testament to Honda's excellent Panel Design are three handy LED indicators. The output indicator is a green light that signals that your generator is producing power at all outlets. The overload alarm is a red light that turns on if you're overloading your unit.
After four seconds, the current will be cut off from appliances while allowing the engine to run safely. The oil alert is another red indicator that warns you when oil levels drop dangerously low in the crankcase.
The control panel houses four different outlets for diverse usage requirements and even allows parallel operations connecting two units for double power. However, remember these outlets aren't GFCI protected, so exercise caution during use.
One aspect worth considering, though, is that both circuit protectors and the Eco-Throttle switch are relatively small, which may make operation tricky if you're wearing work gloves. Overall, this user-friendly design invites everyone into our community of efficient energy use without compromising safety or performance.
Also Read: Honda EU2200i: An Ultimate Review and Care Guide
Extra Features
The generator's extra features aren't just the icing on the cake, they're truly game-changers. Honda's EU3000i Handi stands out among its peers for its impressive quiet operation. Its compact build and noise-reducing materials contribute to a low noise level of 52 dBA at 25% load, and it only goes up to 58 dBA even at full load.
This makes the EU3000i handy and considerate of your surroundings – whether you're in a campsite or residential area.
But that's not all; safety is another strong point in this model. The muffler comes with a USDA-qualified spark arrestor, minimizing the chances of accidental fires, especially when using it outdoors. This feature, coupled with EPA and CARB compliance certificates attesting to its low emission levels, ensures that you can confidently operate your generator without causing harm to the environment.
| Safety Features | Environmental Compliance |
| --- | --- |
| Muffler & Spark Arrestor | EPA Compliant |
| Minimized fire risk | CARB Compliant |
However, note that despite these advantages, there are some drawbacks as well. There isn't a voltage meter nor a precise hour meter built into the unit. Also, be aware that provided outlets are not GFCI protected.
Overall though, these small issues don't overshadow how much value Honda packed into this machine – from its portability and quietness to its safety features and eco-friendliness – making it an excellent choice for those who desire to belong within nature-loving communities while enjoying a reliable power supply.
Basic Maintenance
Maintaining this powerhouse of a generator, the Honda EU3000i Handi is surprisingly simple. It ensures that you get the most out of your investment for years to come. The design and features of this model make it easy for even those with minimal mechanical skills to perform basic maintenance tasks.
When considering oil change frequency, remember that regular use calls for SAE 10W-30 oil. It's a general-purpose lubricant that will keep your generator running smoothly. Regular changes are crucial. They not only prolong the life of your machine but also ensure peak performance at all times.
Filter replacement is another routine task made effortless with this unit. It comes equipped with both an outer and main air filter. The cleanliness of these filters directly impacts the efficiency of your generator. If these filters become clogged or dirty, they can restrict airflow and reduce performance. So stay on top of checking and replacing them as necessary.
Spark plug care is also an important aspect. For optimal functioning, maintain a spark plug gap between 0.028 – 0.031′ (0.7 – 0.8 mm). Regular inspection and cleaning can help prevent any issues down the line.
The accessible muffler and spark arrestor are bonus features that enhance safety while making maintenance simpler than ever before! Plus, four dedicated maintenance covers make access to key components a breeze.
So go ahead! Embrace being part of the community that believes in taking good care of their investments. Because when you take proper care of your Honda EU3000i Handi generator today, it'll be ready to deliver reliable power whenever you need it tomorrow.
Read: All Honda Generators Spark Plug Gap And Socket Size Guide
Pros & Cons Of Honda EU3000i Handi
Pros
Small size and low dry weight
Less Noisy
Durable
Eco Throttle System
Cons
A Bit Expensive
An hour meter isn't very precise
Absence of voltage meter
Frequently Asked Questions
What makes the Honda EU3000i Handi different from other similar generators in the market?
Imagine camping with tranquility, not disturbing wildlife. Your Honda EU3000i Handi offers unrivaled fuel efficiency, whisper-quiet operation, and low maintenance needs. It's a generator that understands your craving for peaceful adventures and easy upkeep.
Does the Honda EU3000i Handi come with a warranty, and if so, what does it cover?
Yes, the Honda EU3000i Handi does come with a warranty. The warranty duration is three years, and it's transferable. However, the warranty excludes wear and tear, so remember to maintain your generator well.
Is there any special training or licensing required to operate the Honda EU3000i Handi?
No special training or license is needed to operate the Honda EU3000i Handi. Its safety features are user-friendly, the noise level is impressively low, and fuel efficiency promotes environmental care. It's your perfect power companion!
Can the Honda EU3000i Handi be used in all weather conditions?
While the Honda EU3000i Handi has some weather resistance, it's not designed for all conditions. Regular maintenance is crucial, especially in harsh weather. Consider protective accessories to ensure its longevity and your peace of mind.
Are there any financing options available for purchasing the Honda EU3000i Handi?
Yes, financing options are available for the Honda EU3000i Handi. The impact on your credit score, down payment requirement, and monthly installment plans depends on the dealer's policies and your financial standing.
Conclusion
In a nutshell, the Honda EU3000i Handi is your knight in shining armor during power outages. It's compact, reliable, and efficient, making it worth every penny. However, maintaining it isn't a walk in the park.
But with its impressive features and performance, you won't mind rolling up your sleeves to keep this machine running smoothly.