I've been researching different generators and have found Predator generators to be a popular and reliable choice for many consumers.
However, it's important to know where these generators come from and who manufactures them to understand their quality and resilience. In this article, I'll be revealing the brains behind Predator generators and engines and where they're made.
Unraveling the Predator Brand
When it comes to Predator generators and engines, it's essential to understand the brand, its manufacturers, and the production locations. Predator is a well-known brand that falls under Harbor Freight Tools, a California-based home improvement and power tools retail chain.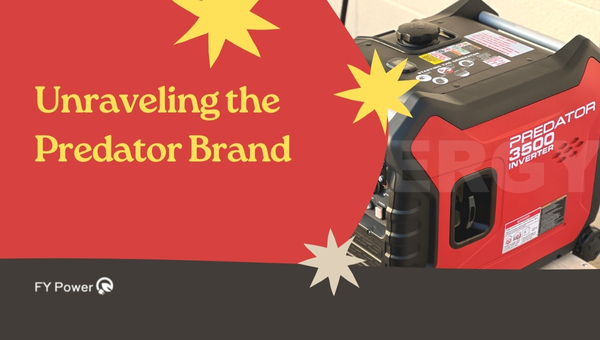 Predator engines and generators cater to several applications, such as small-scale construction, recreational, and residential use. The brand is highly recognized for its affordability, quality, and reliability, which is often compared to more expensive counterparts such as Honda or Briggs & Stratton.
However, it's essential to acknowledge that these more expensive brands are designed for higher-end commercial applications and extreme conditions.
The manufacturer behind Predator engines and generators is Jiangdong Group, a Chinese manufacturer known for low-cost, medium-quality power equipment. , Predator-branded products are held to a higher quality standard due to contracts with Harbor Freight Tools, and they undergo stringent testing and monitoring to ensure quality control.
In terms of production, Predator engines and generators are primarily manufactured in China. When it comes to quality, Harbor Freight Tools demands adherence to strict specifications, ensuring that the products maintain the quality and reliability that consumers have come to expect from the Predator brand.
Here are some key facts about the Predator brand:
Owned by Harbor Freight Tools
Manufactured by Jiangdong Group
The production location in China
While the Predator brand might not be at the same level as some high-end alternatives, it has carved a niche for itself in the market due to its cost-effective, reliable, and efficient engines and generators.
The relationship between Harbor Freight Tools and Jiangdong Group has successfully created a competitive and well-regarded product line that continues to address the needs of its target market.
In short, Predator engines and generators are popular choices for customers who want affordable-quality products. By understanding the brand's origins and manufacturing process, buyers can make informed decisions when choosing a generator or engine that fits their needs.
Also Read: A Guide To All Predator Generators Weight And Dimensions
Predator Generators: Key Features
I've taken the time to compile a list of key features that make Predator generators stand out in the competitive power equipment industry. From their powerful engines to convenient outlets and safety features, I'll outline the main qualities that draw consumers to this reputable brand.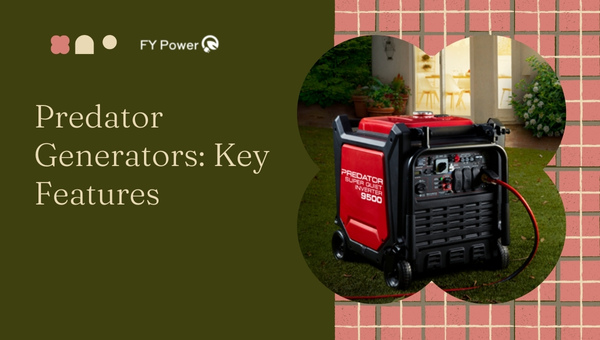 Engine Quality: Predator generators are known for their robust engines, built to ensure long-lasting and efficient operation. They use heavy-duty materials, like 212cc to 8750cc, OHV engines, which provide ample power to meet your energy requirements. These engines promise fuel efficiency and smooth performance time and time again.
Start Features: Predator generators offer both manual (recoil) and electric start options, depending on the model. Electric starts come with a key-turn ignition that makes getting your generator running a breeze. Recoil starts while requiring a bit more physical effort, remain user-friendly thanks to their ergonomic design.
Versatile Outlets: Predator generators come equipped with a variety of outlets to accommodate all your energy needs. Most models include:
120V receptacles
240V receptacle
12V DC output
USB ports
These outlets help power multiple devices at once, making Predator generators invaluable during emergencies or outdoor events.
Extended Running Time: Boasting impressive run times, Predator generators ensure uninterrupted power supply for prolonged periods. Most models come with large fuel tanks and feature fuel gauges that help you monitor consumption. For example, a 3500-watt generator may have up to 11 hours of run time at a 50% load.
Safety Measures: Predator generators prioritize safety with features such as:
Low oil shutdown: This safeguard automatically turns off the generator when oil levels are insufficient to protect the engine from damage.
Overload protection: Built-in circuit breakers prevent overloading, ensuring the safety of connected devices and the generator itself.
Portability: Many Predator generator models are portable, with design aspects such as sturdy wheels and convenient handles that make transportation simple. Additionally, their compact design conserves storage space.
Also Read: All Predator Generators Spark Plug Gap and Socket Size Guide
Predator Engines: What Sets Them Apart
Over the years, I've noticed that Predator Engines have set themselves apart from the competition in several ways, as I will highlight below.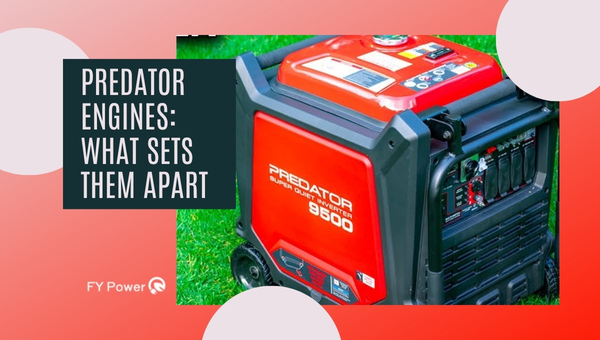 For starters, what really grabs my attention is their exceptional performance. With advanced features like the OHV (overhead valve) design and a low oil shutdown system, these engines consistently deliver top-notch output. The OHV design is known for promoting smoother operation and better fuel efficiency, which is a great bonus in my book.
Another thing I've noticed is the durability of Predator Engines. They're made from cast iron, which contributes to their longevity and resistance to wear and tear. When it comes to generators, you want something that can withstand the test of time, and these engines promise just that.
Now, let's dive into some more specifics about Predator Engines. They offer a wide range of engine sizes, which I believe is a significant advantage to consider.
| Engine Size | Horsepower Range | Usage |
| --- | --- | --- |
| Small | 2.8-9 HP | Recreational & Light Industrial |
| Medium | 11-18 HP | General Purpose & Industrial |
| Large | 20-22 HP | Industrial & Heavy Duty |
Having different engine sizes allows for versatile applications, meeting various needs of customers and making it even more appealing.
Not to forget, Predator Engines are known for their affordability. While providing high-quality products, they still manage to offer competitive pricing. I find this as an essential aspect since saving a few bucks never hurts, especially when you don't have to compromise on quality.
Finally, I must highlight their reliability. Predator Engines undergo comprehensive testing for quality assurance, and they are backed by a strong warranty policy. Users can trust these engines to function smoothly even in demanding situations, which is vital for anyone depending on a generator.
Also Read: Guide To Predator Generator Fuel Types, Capacity & Run Time
Manufacturing Process of Predator Products
The manufacturing process of Predator generators and engines can be broken down into several key stages. By understanding these processes, we can gain insight into the quality and reliability of Predator products.
Design and Engineering: The first stage I'd like to highlight is the design and engineering of Predator generators and engines. Predator's team of skilled engineers works diligently to create innovative designs that ensure optimum performance and durability.
Material Selection: Once designs are finalized, the materials for constructing Predator generators and engines are carefully selected. Predator utilizes high-quality materials, including cast iron for engine blocks and copper windings for generators, to ensure their products are built to last.
Manufacturing: The manufacturing process of Predator products largely takes place in the company's factories in China. These facilities adhere to strict quality control measures to ensure the final products surpass industry standards.
Some of the critical manufacturing steps include:
CNC Machining: Computer numerical control (CNC) machines allow for precise milling and cutting of parts with minimal human intervention.
Assembly: Predator products are assembled using high-quality components and best practices to maintain consistency and reliability.
Quality Control: Each product undergoes thorough quality checks and testing to guarantee exceptional performance for end-users.
Shipping and Distribution: Once manufacturing is complete, Predator generators and engines are shipped to distribution centers worldwide, predominantly in the United States. From there, retailers and customers can receive these products for their power generation needs.
After-Service Support: Last but not least, Predator is committed to providing excellent customer support through their after-service program, so you can feel confident in purchasing their products. They do this by offering:
Repair services: In case of any defects, Predator offers repair services to troubleshoot and fix the issues.
Spare parts: A readily available supply of spare parts ensures that you can maintain and repair your Predator products as needed.
Warranty: Predator offers generators and engine warranties to instill confidence in their products.
From design to after-service support, Predator's commitment to excellence is evident, making their generators and engines a smart choice for those in need of reliable power generation.
Also Read: Storing Your Generator: Short-Term & Long-Term Storage Tips
Parent Companies and Brands Involved
Predator generators and engines are popular for their affordability and reliability among consumers. But who's behind the production of these well-known powerhouses? That would be Harbor Freight Tools, a privately owned discount tool and equipment retailer. Established by Eric Smidt in 1977, Harbor Freight operates over 1,000 stores across the United States. Their primary focus is on providing customers with affordable products without sacrificing quality.
Predator is a house brand under Harbor Freight, and it's not the only one. There are several other house brands, which include:
Drill Master: Offers power tools such as cordless drills and angle grinders
Central Machinery: A line of various machines like lathes, saws, and planers
Pittsburgh: A collection of hand tools, automotive tools, and toolsets
Central Pneumatic: A range of pneumatic (air) tools like compressors and nail guns
When it comes to the manufacturing process, Predator generators and engines are produced by a China-based company called RATO. Rato was established in 2007 and has since expanded its reach to over 120 countries. They manufacture engines not just for Predator generators but also for a variety of other equipment in the power, marine, and agricultural sectors.
A common question I come across is whether the quality of these generators and engines meets users' expectations. Although manufacturing occurs in China, it's essential to note that RATO follows international standards with rigorous quality control measures. The company, in fact, holds certifications like ISO 9001 for quality management systems and ISO 14001 for meeting environmental management requirements.
Customer Reviews and Common Concerns
I've spent some time carefully analyzing customer reviews and gathering information to address the common concerns about Predator generators and engines. It's essential to get a well-rounded understanding of these products to make an informed decision.
Many users appreciate Predator generators' affordability and dependability. They often mentioned the generators providing steady power during storms, power outages, or for use on worksites. As for Predator engines, the ease of installation, fuel efficiency, and performance were highlighted in positive reviews.
On the flip side, it's important to consider some concerns mentioned by customers. Let's examine the most common issues faced by users:
Noise levels: Although Predator generators offer a range of power output options, certain models might produce more noise than preferred. It's crucial to check the noise levels of a specific model before purchasing to avoid any inconvenience.
Quality control and manufacturing inconsistencies: A few reviewers expressed their frustration with receiving products with manufacturing defects or quality control issues. This issue can be mitigated by thoroughly examining the product upon arrival and promptly addressing any concerns with the retailer or the manufacturer.
Limited access to service centers and replacement parts: Predator generators and engines are primarily sold at Harbor Freight stores, which might not be conveniently located for some customers. It's worth noting that replacement parts availability could also be a concern when maintenance or repairs are needed.
Keep in mind these customer reviews and common concerns when planning to purchase a Predator generator or engine. Evaluating which model best suits your needs, environment, and requirements is crucial.
Wrapping It Up
Throughout this article, I've explored the origins, manufacturers, and locations where Predator generators and engines are made. To sum up, here's what we discovered:
Harbor Freight Tools produces Predator generators and engines.
This US-based company designs, manufactures, and sells tools, generators, and engines at affordable prices.
Predator products are made primarily in China and are well-regarded among users for their consistent performance and reliability.
It's important to note that while Predator generators and engines are made in China, they still offer exceptional performance, making them popular among customers in various industries. If you're in the market for a cost-effective and reliable generator or engine, the Predator series is worth considering.