Firman generators are an increasingly popular choice in the power generator market, but who makes these reliable and powerful machines? Are they any good? In this article, we'll take a look at Firman Generators and discuss their quality, features, and advantages.
We'll also cover what sets them apart from other brands of portable generators. By the end of this article, you will have a better understanding of Firman Generators and why they may be the right choice for your needs. Read on to learn more.
Who Makes Firman Generator?
Firman Generators are designed and assembled by Firman Power Equipment, which is a subsidiary of the larger company known as SUMEC Group. SUMEC is a Chinese company that specializes in manufacturing a wide range of power equipment, including generators, garden tools, solar panels, and more.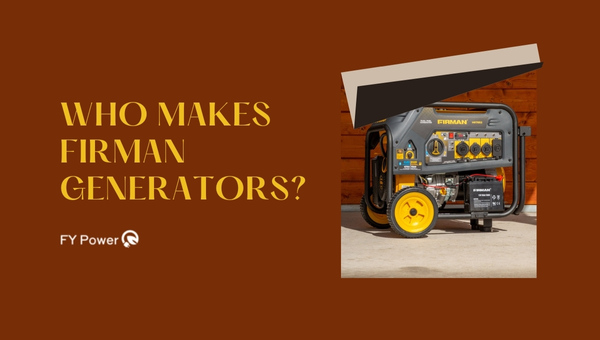 Firman Power Equipment, the company responsible for making Firman Generators, was established in 1999 and has since become a leading brand in the power generator market. Their headquarters are located in Peoria, Arizona, and they have manufacturing facilities in China.
Firman Generators is a Multinational company that manufactures power generators. They offer a wide range of products, including portable and standby models, inverters, and professional-grade generators. The company focuses on providing customers with exceptional quality, superior performance, and reliable service.
Related Post: Who Makes Predator Generators? Exploring Their Origins
Are Firman Generators Any Good?
Firman Generators come in a variety of sizes and power outputs to suit your needs. Whether you're looking for a small portable generator or something more powerful for home use, Firman Generators has you covered.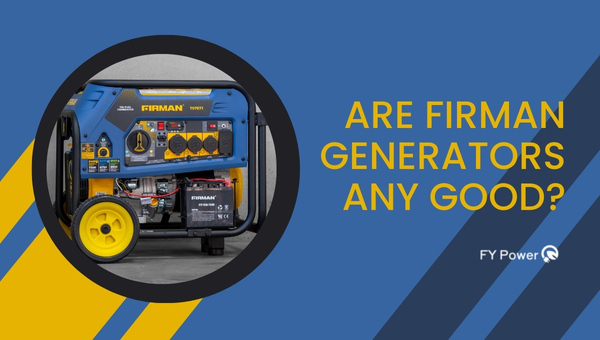 Their generators are designed to be reliable and easy to use, with features like electric start and tri-fuel capabilities that make them stand out from the competition.
Firman Generators also come with a 3-year warranty, so you can rest assured that your purchase is protected. They have an extensive selection of accessories available as well, including covers and parallel kits that make it even easier to get the most out of your generator.
Overall, Firman Generators are some of the best on the market today. With their reliable performance, easy operation, and long warranties, they're sure to provide years of dependable service. So, if you need a reliable generator that won't let you down when you need it most, look no further than Firman Generators!
Related Post: Who Makes Wen Generators and Where Are They Made?
Different series of Firman generators?
Here are the different types of generators that are offered by Firman Generators.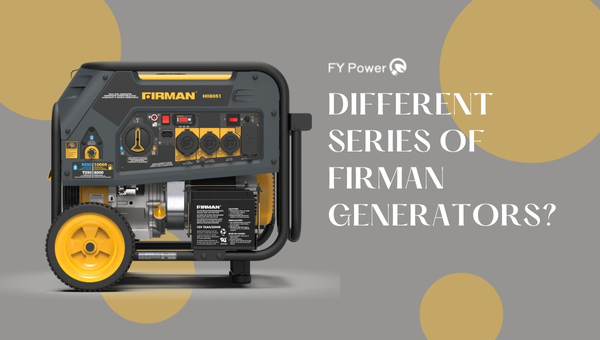 Zero-e series
The Zero-E series is a line of professional-grade generators designed for industrial use. These generators are built to last and feature strong engines and durable construction. They are also up to 50 percent quieter than traditional generators due to their advanced noise suppression technology.
Inverter series
The Inverter series is a line of portable inverter models that offer reliable power in any situation. These highly efficient generators are ideal for homes, RVs, camping trips, or other outdoor activities. The Inverter series provides clean, stable power while being light and easy to transport.
Standby series
The Standby series is designed for emergency backup and standby power applications. This line of generators features automatic start-up technology so you can be sure your home or business will stay powered even during an outage. The Standby series. Provides reliable power and peace of mind.
Power mate series
The Power Mate series offers powerful inverter generators that are perfect for camping and tailgating. They are lightweight, quiet, and fuel-efficient, making them an ideal choice for anyone looking to enjoy the outdoors in comfort and style.
Hybrid Series
The Hybrid Series features a unique combination of power and convenience with its portable hybrid models. These generators provide reliable electricity when you need it the most while being compact enough to take anywhere.
Whisper Series
The Whisper Series from Firman Generators is designed to be very quiet. They use advanced noise reduction technology and are much softer than most other generators. These generators are perfect for places where you need power but don't want the noise of a regular generator.
Performance Series
The Performance Series of Firman Generators is designed to provide power in any situation. They are solid and reliable, so you can trust that they will work when you need them most. The Performance Series also offers quiet operation and advanced noise reduction technology, so you don't have to worry about loud noises from the generator.
Firman Generators has the perfect solution for you, no matter what type of generator you need. Their exceptional quality and reliable service make them a trusted choice for many users. From industrial-grade models to portable generators, they have something to fit every need and budget.
Related Post: Who Makes Pulsar Generators and Where Are They Made?
Popular Models of FIRMAN Generators
Given below are the best and most popular generator models of Firman Generators.
Firman H08051 Hybrid Series Portable Generator
This generator is perfect for camping, tailgating, RVing, and more. It features a powerful 10,000 on (Gas) & 9,050 on (LPG) watt peak/8000 on Gasoline 7250 on (LPG) rated output and dual fuel capability, and you can choose between running on gasoline or propane. Its quiet operation, advanced noise-reduction technology, and lightweight construction make it ideal for anyone looking to enjoy the outdoors in comfort.
Firman P08003 Performance Series Portable Generator
This generator offers 10,000 watts of peak/8,000 watts rated output and is equipped with advanced features such as a voltage selector switch, low-oil shutoff protection, and an LCD panel. It's also quiet enough not to disturb your neighbors while still providing reliable power.
Firman W03081 Whisper Series Inverter Generator
This inverter generator is designed for those who need reliable power without being too loud. It has a 3,300-watt peak/3,000-watt rated output and comes with advanced noise reduction technology to ensure it won't bother anyone in the area. It's also fuel efficient, lightweight, and portable so that you can take it anywhere.
No matter what kind of generator you are looking for, Firman Generators has a solution that will fit your needs.
Related Post: Who Makes Westinghouse Generators and Where Are They Made?
Features Of Firman Generators?
Some of the features of the firman generator.
Durable construction and high-quality materials.
Reliable engines and fuel efficiency.
Easy to transport and use.
Automatic start-up technology for emergency backups.
Comprehensive warranties for peace of mind.
Advanced noise reduction technology for quiet operation.
Portable and inverter models are available.
Affordable pricing options.
Professional grade generators for industrial use.
Pros and Cons of Using a FIRMAN Generator
Given below are some Pros & cons of Firman Generators.
Pros
Reliable power with a 3-year warranty. FIRMAN generators are backed by a 3-year warranty, so you can be sure you'll have reliable power for years to come.
Multiple fuel sources. With the ability to run off of gasoline, propane, or natural gas, you can choose the fuel source that works best for your needs.
Electric starter. The electric starter makes it easy to get your generator running quickly and efficiently.
Cons
Price: FIRMAN generators tend to be more expensive than other brands, so they may not fit everyone's budget.
Availability: Depending on where you live, it may be difficult to find a store that carries FIRMAN generators in stock.
Conclusion
Firman Generators are a great choice for those looking for reliable and powerful generators. They offer a wide range of models, from portable to standby, inverter generators, and dual fuel options. A 3-year warranty backs their products and has been rated highly by customers.
Whether you need a generator for home backup power or recreational use, Firman has something to fit your needs. In this guide, we have provided you with the necessary information you need to know about Firman Generators.